We would like to honor another Class of 2020 Jayhawk with our senior salutes. Congratulations senior Grace Springer!!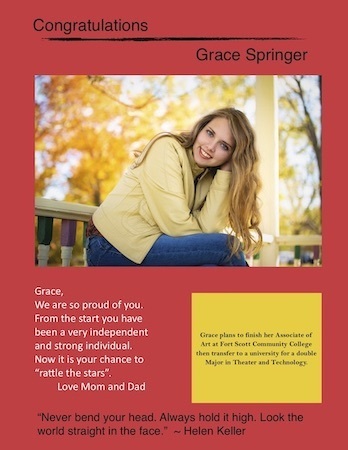 Seniors- Be sure to check your Schoology account for IMPORTANT Scholarship/Senior Zoom mtg info from Mr. Kramer.

JES students completing paper packet assignments are asked to email pictures of completed work to teachers. For those who can not email pics, a drop box for finished paper packets is located outside of the JES office. Make sure student name is on all papers and the envelope.
During the month of April, Jayhawk will honor our Class of 2020 by featuring a senior on Sunday, Tuesday, & Thursday. Thank you to Senior Class Sponsor Chasity Ware for contacting parents & designing these senior salutes. Congratulations to Brody White!!

Thanks to all of you for your efforts this week. I am very proud of our staff for their work. I am very proud of the students who rolled up their sleeves and got to work, and very thankful to all of our parents and patrons for your patience.
https://www.youtube.com/watch?v=7Zei1fG2HTc&t=75s

Parents and students 4-3-2020. This week we fed over 4000 meals to the children of our district. Teachers have rolled out learning for your students and we are desperately trying to find a "new normal" for school. As for food service about 3 to 5 families a day who "missed the bus". If you know you are not going to be present to get your meals please call the school and cancel your order for that day. We expect your child to be at the bus stop on time and should not have to call or honk the horn before they come out of the house. Educationally, we expect all students to participate in the continuous learning opportunities offered by the district to the fullest extent possible, without placing additional burdens and hardships on our families. If you have trouble with connectivity or understanding assignments please email or call our staff and we will gladly assist students and families overcome barriers and obstacles. On the lighter side, one student recently asked me, "do you really expect us to do our assignments?" My answer, "only if you want to pass your class and graduate".

Attention high school & junior high parents and guardians. Please read this message at the following link from JLHS yearbook staff.
https://5il.co/emno


Parents and Students 3-30-2020. Today was a great day of caring for the children of USD #346 by our staff. Teachers have been busy getting Continuous Learning Plans ready for your child. Meanwhile, food service, bus drivers, and classified staff prepared and delivered over 425 meals. As a reminder on food deliveries - we can NOT touch anything on your property. To keep social distance and keep our employees safe we cannot ring your doorbell, put meals in your cooler, in your trunk, in your mailbox, or in the seat of your car (today's requests). Thank you for understanding why we cannot touch a surface you have touched. Buses M2, M4, M7, and 3 suburbans will travel their routes tomorrow with over 600 meals. Wednesday is curb side pick up in the JES teachers parking lot (bus loop) and will have about 900 meals served on that day. Reminder: curb side pick up of meals is every Wednesday 11 to noon...

JLHS Continuous Learning Plan has started rolling out to students. Please be patient with us as we are in uncharted territory. Please understand that each teacher faces unique challenges based upon his or content and the needs of the class being rolled out. Our intent is to release material and classwork slowly so as to not overwhelm students who are also facing a reality unlike anything they are familiar with. We know that what works for one student or family may not work for others and that we will need time and communication to get those plans in place for everyone. Teachers and staff have your best interest at heart. They want to help you and they want you to succeed. Feel free to communicate issues or concerns with your teacher or with Mr. Thomas and Mr. Holt. We WILL get through these tough times by working together.

Continuous Learning Plans will roll out this week. Expect initial contact from teachers by this Friday April 3rd. Initial contact may not contain assignments. Please be patient as teachers test communication platforms and check on students before assignments are handed out. Stay Safe!

I hope all of you are safe and sound! Here is another video update to end the week with. Huge shoutout to the staff at JLHS and JLJHS! Everybody stepped up huge this week and helped make our Continuous Learning Plans a reality!!
https://www.youtube.com/watch?v=3o9CpQ011i0

Parents and Students 3-27-2020. Good afternoon - we have some meal delivery information for those of you that signed up. If your child rides Bus #3, 5, 6, or 8 (and you signed up) they will receive their meals at the bus stop on Monday and Thursday of each week. If your child rides #2, 4, or 7 (and you signed up) they will receive their meals on Tuesday and Friday. Buses will leave school by 11:30 each day so please be at your child's bus stop after that (you probably have a general idea how many minutes it takes to get from school to your bus stop). We will deliver some meals by suburban (on Tuesday and Friday for those who signed up) and we will try to notify you if this involves your family. Wednesday, we will run the "pick up" line for food at JES from 11 am to noon. Please drive through the teachers parking lot located on the east side of the school (off of 5th street), you will find us by the tan colored building beside the playground. If you have questions please call Carla Leavitt 913-795-2247

Parents and Students 3-26-2020. We have NEW lunch delivery information for you. It appears we will feed over 350 children breakfast and lunches. We will deliver meals to approximately 300 students. Around 150 (or 1/2) will receive 6 meals (3 breakfast, 3 lunch) on Monday and will receive 4 meals (2 breakfast, 2 lunch) on Thursday of each week. The other half will receive 6 meals on Tuesday and 4 meals on Friday. We will share information soon to when you can expect your bus driver to deliver meals to your bus stop. Wednesday will be our car line pick up at JES (it appears we have around 50 signed up for this option) our plan is to give each of these children 10 meals (5 breakfast and 5 lunch) to last until the next Wednesday. At this time it is impossible for us to accommodate taking meals to 2 different places for divorce or childcare situations, we will request that parents in these scenarios come in on Wednesday to receive their child's meals for a week. Many parents and students used our drive through service today to pick up their child's belongings and received a lunch if they requested it. I would like to clarify if you picked up a lunch today we will not have one prepared for you tomorrow. Car lines at JES and JLHS open at noon again tomorrow, please come as early as possible. We hope to get into a routine soon and all of this will hopefully feel more normal. If you have any questions concerning food service please call Carla Leavitt at our district office 913-795-2247. Thank you!

The Republican Women's Senior Brunch scheduled for this weekend has been cancelled.
JLHS Seniors - Please check your Schoology Class of 2020 accounts for very important information regarding your graduation credits and SCHOLARSHIPS. Mr. Kramer will keep you updated so begin making it a habit to continue to check into your Class of 2020 Schoology account at the very least weekly if not daily. Remember you can always reach out to Mr. Kramer's e-mail
bkramer@usd346.org
.


Parents and Students 3-25-2020 - we are getting closer to Monday's roll out of continuous learning and delivery of meals for some our students. We need to share first that we do not monitor social media (facebook for most of you), if you have a question call your child's school. Thursday (26th) and Friday (27th) afternoon (noon to 5 pm) we will load your students personal belongings and provide a meal (for those who signed up) at curb side service of both buildings. Refer to yesterdays announcement for car line information. As I shared prior if these times do not work for you, call your child's school and we will gladly arrange a time for you to pick up their belongings. Thanks again for your patience and understanding during these changing times.

Student and Parents - Today 3-24-2020 we made calls home to complete survey information and still have a few to go. Because of the quick work of staff members, pick up of your students personal belongings will begin Thursday at noon to 5:00 pm at both buildings. Friday afternoon (same time) we will also be available to pick up items. JES parents will use the carline and loop around to the front office area. High School will use the bus loading zone and stop by the front entrance. For those who signed up for lunch and breakfast we intend to have meals ready for you also. We will provide more guidance tomorrow. Please remain patient and flexible as we go through changing times together.