The 2023 play this year is selling chances on two Jayhawk blankets this Friday. Please help support our production. Cost is $1 per chance or $5 for 6. See you Friday at Courtwarming.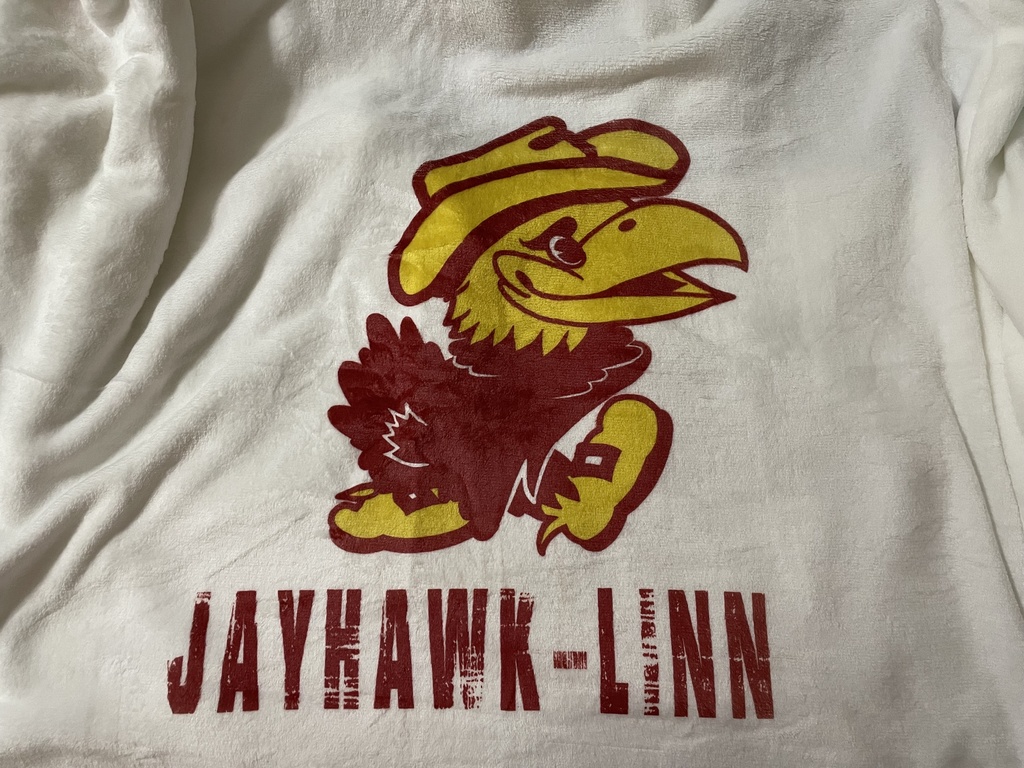 Jayhawk Nation...Come celebrate Courtwarming at JLHS this Friday night. Spanish club will be offering a Potato Bar with dessert and drink for $6.00

Our girls wrestling travels to Fort Scott today for a 4:30pm start. Admission: $5 adult/$4 student It will be live streamed on the Fort Scott High School YouTube page at this link:
https://www.youtube.com/@fortscotthighschool1017/streams
. JV Boys Wrestling Travels to Louisburg this afternoon for a 4:30pm start. Admission is $5 per adult Good Luck to our Jayhawk Wrestlers!

JES word of the week for January 23: COURAGE - the ability to do something that frightens one.

Reminder- Jayhawk Linn Basketball will host Yates Center next Monday 1/23 to makeup the postponed game in December. Boys JV will play a 1/2 game and will start at 4:30pm followed by Varsity girls at 6pm followed by Varsity boys. All games Monday will be played in the Main gym.

USD 346 is accepting applications for the position of School Nurse. Application materials can be found on our website -
www.usd346.org
. Please call the district office for more information. 913-795-2247

Jayhawk Linn Basketball Game Schedule for Friday at Uniontown JLHS Varsity boys vs Uniontown High School at 4pm in the elementary gym JLHS Varsity Girls vs Fredonia High School at 5:30pm in the high school gym Good Luck Jayhawks!

Tonight's Junior High Basketball Games will all be played in the Main Gym due to lack of officials. Games begin at 5:30pm against Uniontown Order of play 1/2 B girls followed by 1/2 B boys followed by full A girls and full A boys.

JES word of the week for January 16: OPTIMISM - hopefulness and confidence about the future or the successful outcome of something.

Jayhawk Varsity Basketball travels to Uniontown this week for the Kenny Holt Memorial Tournament. Jayhawk will play Monday, Tuesday and Friday nights at Uniontown. Schedule is attached. Admission: $5 adults, $3 students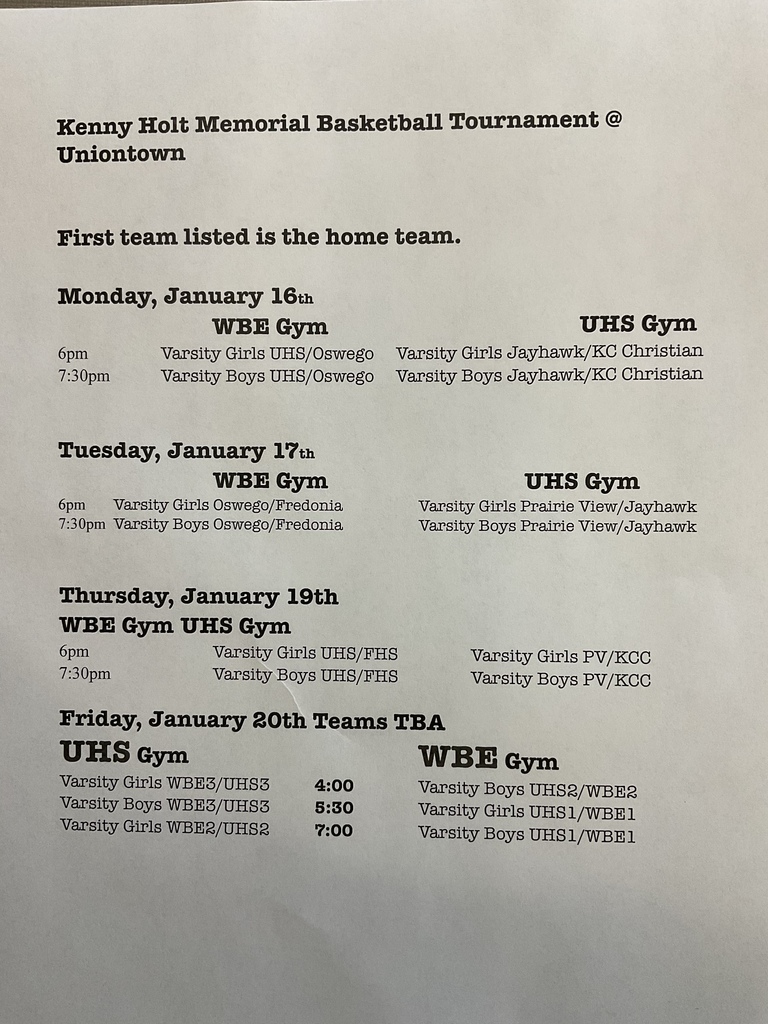 Martin Luther King Jr. Day: No School Monday, January 16, 2023.

Jayhawk Nation...On the morning of Thursday January 12 an incident at JLHS caused our school to issue a code yellow (also called a shelter in place) that allowed our staff to deal with a medical emergency. Our excellent team managed the situation perfectly and all persons involved were treated effectively and are now safe and in good condition.
Top four spellers at today's Jayhawk Elementary Spelling Bee were (left to right) London Otto, Tryke Ranes, Ryland Summers, and Tyrus Chadwick (top speller). Congratulations to all who participated in this morning's event!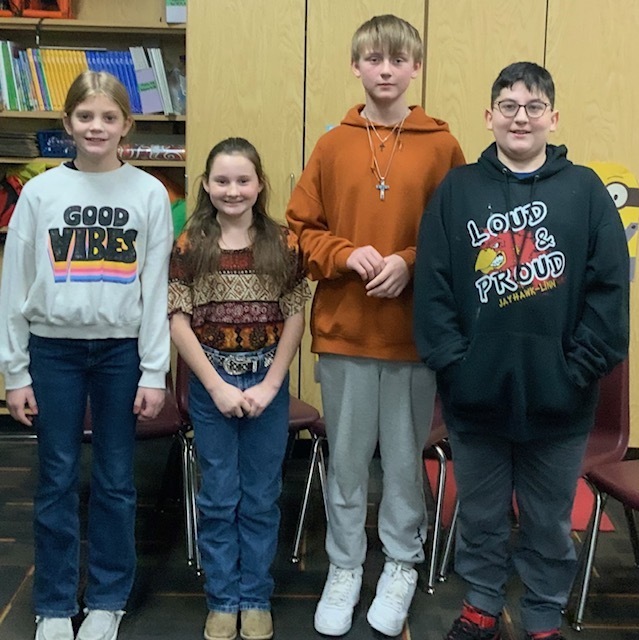 Friday, January 13, is CRAZY HAIR DAY at Jayhawk Elementary.

JES word of the week for January 9: PERSEVERANCE - steadfastness in doing something despite difficulty or delay in achieving success.

Schedule Change: Tonight's Varsity Basketball at Jayhawk Linn will consist of a varsity girls game only starting at 6pm. We will not charge any entrance fees tonight, come out and cheer on the girls to a victory. The boys varsity game will not be played due to Chetopa not having enough healthy players to field a team for tonight.

Tonight's Jayhawk Junior High Basketball Game schedule Games begin at 5pm tonight Junior High Girls will play 1/2 a B game and followed by the A full game in the main gym. Junior High Boys will play 1/2 C game followed by full B game and full A game in the auxiliary gym. Good Luck Jayhawks!


Jayhawk Linn Basketball Schedule for tonight at Crest 4:30pm JV Girls full game 5:30pm JV Boys half game 6pm Varsity Girls followed by Varsity Boys

Jayhawk Linn Junior High Girls Basketball Practice Schedule for today and tomorrow at the high school 1/3 - 2pm-3:30pm 1/4 - 2:30pm - 4pm