Jayhawks win 11-2 and move on to semifinal game to be held at central heights on Wednesday which is the 2nd semifinal game. Will start approximately around 4pm. Jayhawks will play winner of south Lyon county and Yates center on Wednesday.

8-2 lead after 5 for the Jayhawks

After 2.5 innings in Emporia, Jayhawk baseball has 7-0 lead over Pleasanton

The regional baseball semifinals and finals games have been moved to Wednesday, May 18 at Central Heights due to weather concerns for Tuesday, todays games will still go on as scheduled. Regional Baseball and Softball will require entry fees of $6 for adults and $5 for students.

Activities Schedule for today Regional Golf begins at Noon today at Crestwood Country Club in Pittsburg Regional Baseball will play Pleasanton today at Trussler Field at Emporia starting at 3pm Regional Softball will play at Lebo today against South Lyon County, game will begin 25 minutes after the end of the 3pm game with Lebo/Waverly vs Marmaton Valley Good Luck Jayhawks!!


Jayhawk Linn Varsity Softball will play in the regional second game of the day at Lebo on Monday against South Lyon County. This game will start 25 minutes after the end of the first game that starts at 3pm. The 8 seed Altoona Midway has forfeited their opening round game against Yates Center, which caused the change in time for the Jayhawk Linn Game.

Jayhawk Softball Regional Schedule for next week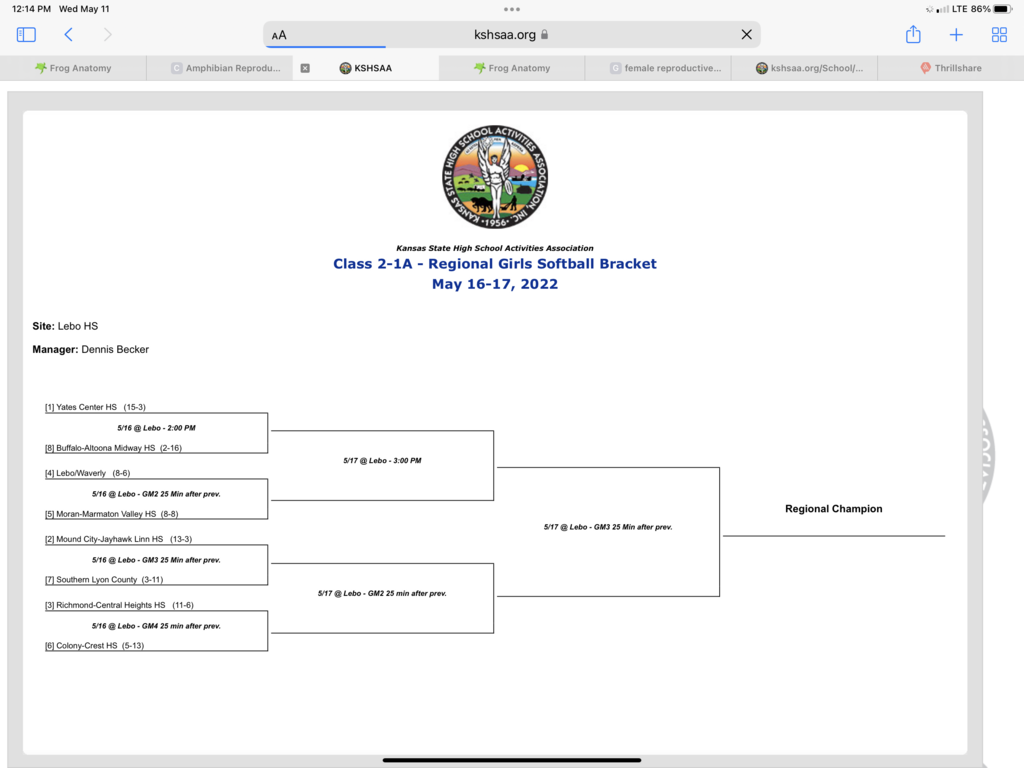 Jayhawk Baseball Regional Schedule for next week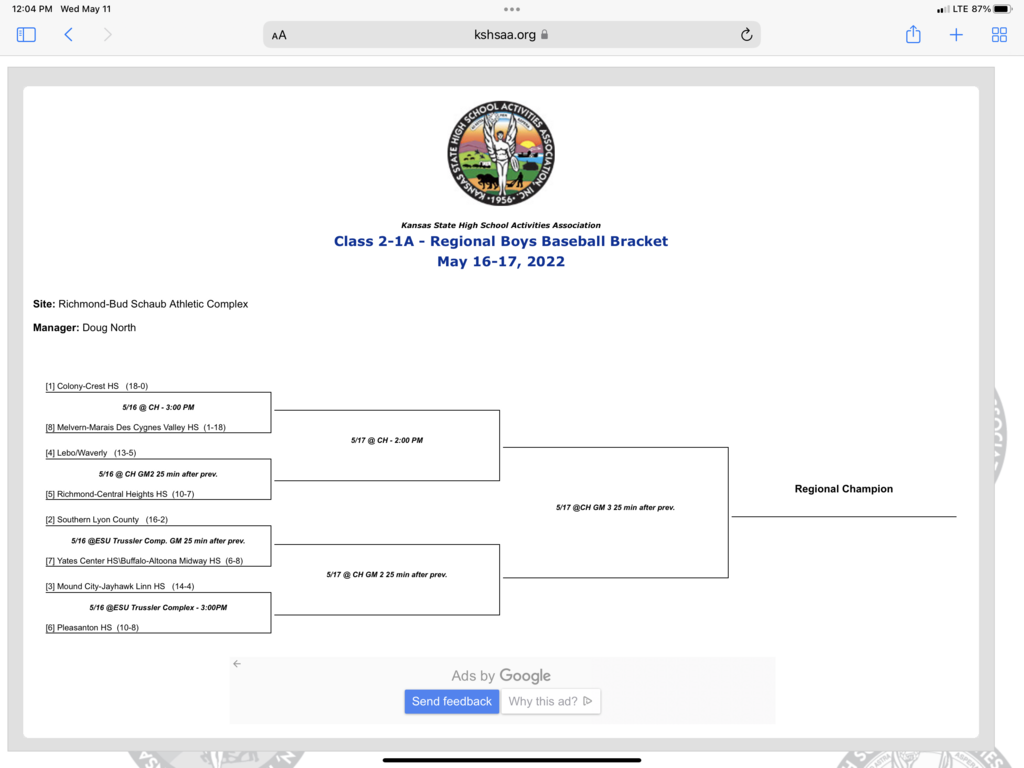 Jayhawk Linn High School Activities Schedule for May 9th - May 13 May 9- Varsity Golf @ Uniontown golf tournament in Fort Scott start time: 1pm May 10- Varsity Baseball/Softball @ Marmaton Valley : 4:30pm start May 10- TRL League Pole Vault @ Arma: 3pm start May 10- Final JH/HS Music Concert: 6:30pm start May 11- Underclassmen Awards 9am May 11- Baccalaureate @ Senior Awards 6pm May 12- Varsity Baseball/Softball @ Colony/Crest: 3:30pm May 12-TRL League Track: Uniontown 3:30pm May 14-JLHS Graduation: 10am

All Jayhawk 2021-2022 -High School- Madeline Batcheler Marissa Batcheler Taylor Burns Lily Casey Isaiah Casner Cynthia Cazarres Dillon Champlin Brynn Collier Haven Conner Abby Holt Callie Holt Cierra Lindsey Brevin Mendenhall Kenzley Nation Jaidyn Pointer Adison Randall Anna Schneider Giavona Schneider Landon Schneider Rosie Seagren Addison Stokes-Todd Marlee Thompson Brena Umphenour Madison Umphenour Brooklyn Snow Bryton Spencer Rylee Spencer Gracee Willard

All Jayhawk 2021-2022 -Junior High- Bertha Becerra Brilyn Bogan Brenlyn Bogan JoVeia Clark Brea Dawson Brady Felt Pyper Grote Jayden Holt Tanner Holt Brayden Johnson Alex Lowe Kiera McGrew Clay Nichols Adeline Randall Celeste Schneider Truman Schneider Janessa Scott Aubreigh Summers Breck Umphenour Jude Wade Denton White Alison Willard

Almost 50 students earned All Jayhawk for the school year - they will be excused from school all day on Friday May 13th - we are extremely proud of their hard work this year!

Baseball and Softball Games scheduled for today at Colony-Crest are postponed and will try to be made up on Thursday, May 12th at Crest at 4:30pm.

High School Track Meet at Northeast Arma has been postponed today due to weather and moved to Friday, May 6th, with a 3:30pm start time for field events and 4:30pm start time for running events

Varsity High School Golf at Fort Scott today has been postponed to Monday 5-9 at 1pm at Fort Scott Golf Course

High School Softball @ Archie today has been cancelled due to weather/field conditions

Congratulations to Gabe Shaughnessy on winning the West Franklin Golf Tournament at Lamont Hills Golf Course yesterday shooting a 77! The Jayhawk Linn Golf Team went on to get 3rd as a team. The varsity golf team will finish their regular season if weather cooperates at Fort Scott Golf Course tomorrow starting at 3pm.

This Friday, May 6, is superhero day at JES. No shields, swords, weapons, or any type of prop. Superhero costumes, capes, or masks only.

JV Golf is cancelled at Burlington today.