Proud of our Jayhawk Linn High School Cross Country teams as they competed in tough regional competition today at Central Heights! Congratulations to Madeline Batcheler and Dakota Wallace who qualified individually for the 2A State Cross Country Meet at Victoria next week!

Lady Jayhawks end their volleyball season in a hard fought battle at substate with a loss in 3 games (25-21, 27-29, 16-25) to the #1 seeded Sedan Blue Devils. Proud of your effort lady Jayhawks.

Reminder: No school for Jayhawk Friday, October 22, 2021.

Substate Volleyball Bracket Schedule: Saturday, October 23, 2pm start @ Pittsburg-St Mary's Colgan Good Luck to the Lady Jayhawk Volleyball traveling to the host school St. Mary's Colgan for the Substate volleyball tournament this Saturday. The Jayhawks will open play at 2pm against the Blue Devils of Sedan High School. Admission prices are $6 for adults and $5 for students. Masks are optional.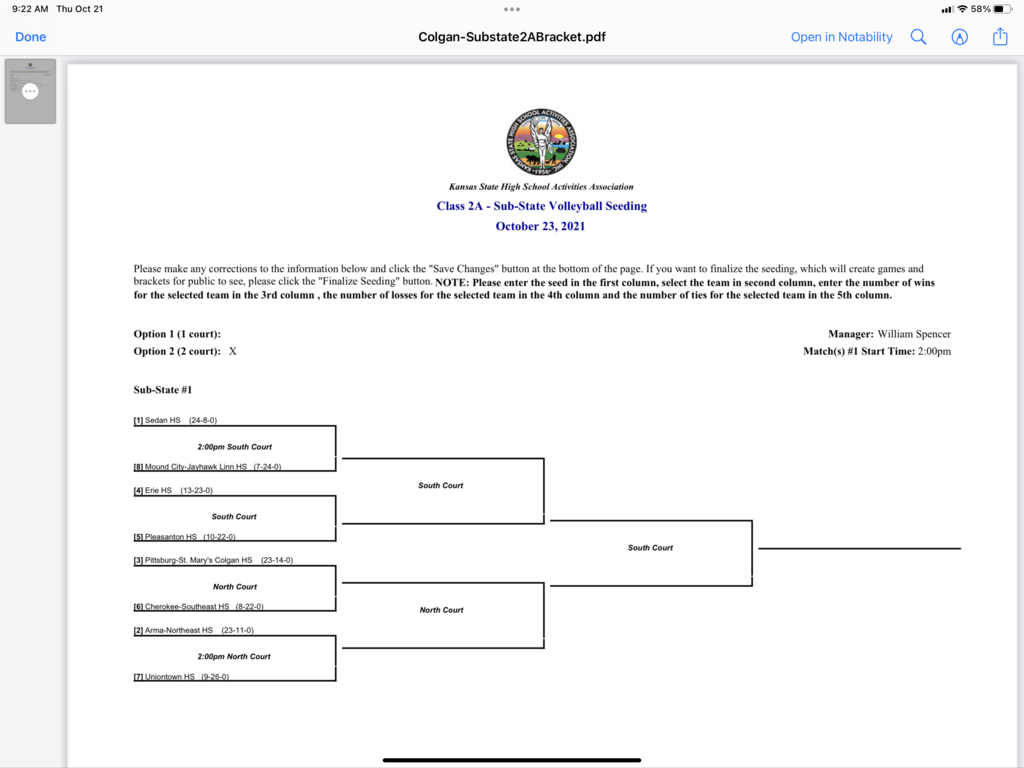 High School Cross Country Regional Saturday, October 23 at Central Heights High School Girls Race starts at 10 am Saturday morning and boys race will follow at approximately 10:40am Good Luck to both of our Cross Country Teams as they try to qualify for the State Cross Country Meet in Victoria next Saturday October 30th.
Wednesday, Oct. 20, has been proclaimed School Transportation Appreciation Day! Today, USD346 celebrates all of our school transportation employees for their hard work and dedication. Thank you for ensuring our students are transported safely to and from school and activities!

Congratulations to the Jayhawk Linn Country Teams!!! Girls and Boys both bring home the Three River's League Championship title tonight!! Way to go Jayhawks!!!!

High School Volleyball will play in their final regular season tournament this Saturday, October 16th at St Mary's Colgan. $4 admission adults/$3 students Masks optional Rolling Schedule for the day: 8am- Jayhawk vs Colgan 9am- Jayhwak vs Yates Center 10am- Jayhawk vs Cherryvale 11am- Jayhawk vs Columbus Lunch Break 1pm Jayhawk vs Oswego 2pm Jayhawk vs Frontenac Good Luck Lady Jayhawks!

High School Football will play our Homecoming game in District 2 play tomorrow night at Home vs West Franklin starting at 7pm. Homecoming Royalty will be crowned before the game, those activities will start at 6:30pm.

Junior High Football will finish the season tonight with a home game against West Franklin. Game time 6pm. Good luck to the Jayhawks!

Good Luck to our High School Volleyball Teams tonight at Home vs Osawatomie Schedule: Freshman play at 4pm JV play at 5pm approximately Varsity will follow JV with a best 3 out of 5 match

Good luck to our Cross Country Teams running at Southeast Cherokee today in the Three Rivers League meet. Race Schedule: 7th grade Girls and Boys 4pm 8th grade Girls and Boys 4:30pm Varsity Girls 5pm Varsity Boys 5:30pm

Flu vaccine clinic is coming Thursday October 21st. Linn County Health Department will start at JES at 9am then move to JLHS until 5pm. The Flu Vaccine is available for Students, Parents and Staff at no charge. Consent forms are being sent home, please return them by Wednesday October 20th.

Jayhawk Linn Junior Varsity Volleyball Tourney at Osawatomie on Saturday, October 9th. Schedule: Pool Play 9am Jayhawk Linn vs. Central Heights 10am Jayahawk Linn vs Prairie View 11am Jayhawk Linn vs Wellsville Top 2 seeds from each pool move on to play Bracket games at 1pm and 2pm approximately. Good Luck Lady Hawks!

District 2 Varsity High School Football Tonight at 7pm at Humboldt! Good Luck Jayhawks!

High School Volleyball tonight at Prairie View Schedule: Approximate times 5pm Jayhawk JV vs Pleasanton JV 6pm Jayhawk JV vs Prairie View JV 7pm Jayhawk Varsity vs Prairie View Varsity

Cross country at Pleasanton today Schedule 4pm 7th grade 4:30pm 8th grade 5pm Junior Varsity 5:30pm Varsity Girls 6pm Varsity Boys Good Luck Jayhawks!

Junior High Volleyball tonight at Colony-Crest Playing order: A team first followed by B team and then C team 5pm A team start time 6pm Junior High 6 man Football at Colony-Crest

Varsity Volleyball games tonight at Chetopa Jayhawk Varsity vs Chetopa @ 5pm and Jayhawk Varsity vs Altoona Midway will follow right after

USD 346 recognizes that the transition being experienced by the Linn County Health Dept. has raised questions about the current Covid-19 policies in our district. Please know that we are working diligently to obtain facts in order to be able to answer those questions. Until we have confirmed certain information, we must assume that the original plan laid out by Linn County Health officials is still in effect and we will continue to follow those guidelines. If those plans are no longer in effect, USD 346 will respond accordingly and it is possible that new guidelines might be required and adopted. We know how frustrating this is for our community and we share in that frustration! Our amazing staff will continue to work diligently to provide for our students and the community.