USD 346 announces that all students will continue to receive free breakfast and lunch through the 2021/22 school year under the USDA program. This institution is an equal opportunity provider.

Reminder: In person enrollment is available Monday, August 2 - Thursday, August 5, from 9:00 a.m. to 3:00 p.m. at each building. Online enrollment is still open as well for your convenience.

Received from Linn County Health Department: FOR IMMEDIATE RELEASE July 28, 2021 Attention Linn County Residents, If you attended the County planning meetings at Pleasanton High School on 7-20- 21 or the meeting on 7-21-21 at Jayhawk Linn High School, there is a strong possibility that you were exposed to a person who has tested positive for Covid- 19. Please monitor for symptoms such as fever, cough, body aches, shortness of breath, or loss of taste or smell. We offer free Covid testing at the Health Department. If you are having any symptoms, please stay home for at least 10 days from the start of your symptoms and at least three days of no symptoms before returning to being around others. The Linn County Health Department continues to recommend social distancing, getting your vaccination, and wearing a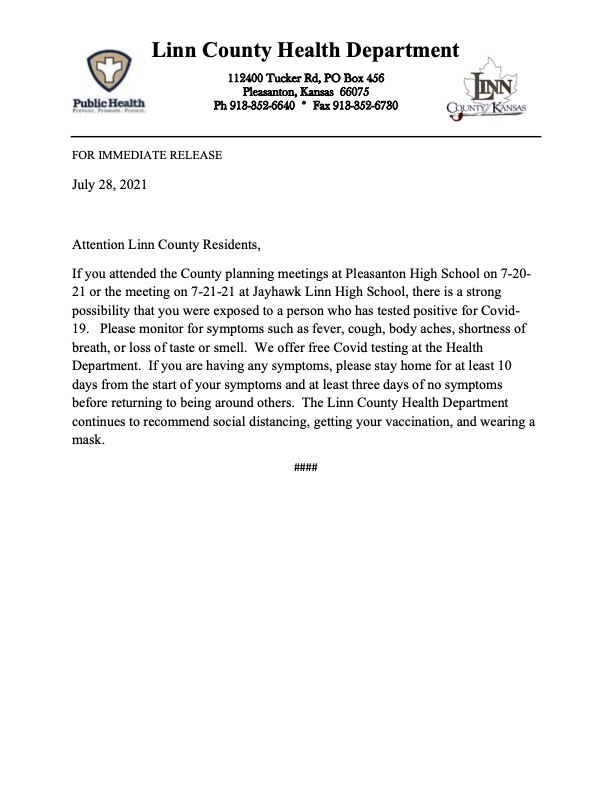 Girls weights and volleyball have been cancelled for the week. (July 13-15) This concludes the girls weights and volleyball for this summer. Please watch for information regarding the upcoming volleyball season at enrollment or online in early August. If there are questions contact Christa Holt.

Reminder: Jayhawk Linn Junior High Football Camp will be next week July 13-15 from 8-10:30am at the High School. Please bring pair of cleats and tennis shoes as well as $20 which pays for camp shirts. If you plan to play JR high football this fall we would love to see you in attendance next week!
News Release from KSDE- Sunflower Summer program gives students chance to learn while visiting attractions for free Families can download app to begin educational adventures across Kansas TOPEKA — A new program will help children stay engaged in learning throughout the summer months while spending quality time with family members and friends touring some of Kansas' greatest attractions – all for FREE. The Sunflower Summer program, which is being funded by federal COVID-19 money to offer summer enrichment activities for Kansas students, is a collaboration between the Kansas State Department of Education (KSDE), Kansas Department of Commerce, the Kansas Department of Wildlife, Parks and Tourism, Kansas Children's Cabinet and Trust Fund, KU Center for Public Partnerships and Research, and Greenbush Education Service Center. "This is a win-win for Kansas students and Kansas attractions," said Commissioner of Education Dr. Randy Watson. "The Sunflower Summer program can help enrich summer learning and is an excellent opportunity for students and families to go on educational adventures together while supporting nearly 70 Kansas attractions." Adults can visit sunflowersummer.org to download the Sunflower Summer mobile app to their phone or tablet device. The app is currently available in the Apple App Store. An adult will need to register their family members and include their county and school district. There are nearly 70 attractions to choose from across the state, including zoos, museums, historic landmarks, libraries and outdoor locations. Within the Sunflower Summer app is a passport that allows participants to track where they have visited on their adventures. Once a location has been selected, tickets can be claimed within the app. When attendees are ready to enter, the ticket can be activated and presented to the ticket taker. Child care facilities also can access and use the app for field trips. However, only one ticket per child and adult can be redeemed at each location. More information and a frequently-asked-questions section are available at
www.sunflowersummer.org
. The Sunflower Summer program runs through Aug. 15. Funding for this program is limited, and tickets are on a first-come, first-served basis. HERE is a list of participants: ATTRACTIONS & LANDMARKS Cosmosphere Curious Minds Discovery Zone Evel Knievel Museum Exploration Place Kansas Aviation Museum Kansas Children's Discovery Center Kansas State Capitol Lee Richardson Zoo Mid-America Air Museum Rolling Hills Zoo Sedgwick County Zoo The Topeka Zoo Wright Park Zoo HISTORY Amelia Earhart Birthplace Museum Boot Hill Museum, Inc. Brown v. Board of Education National Historic Site Eisenhower Presidential Library*** El Quartelejo Museum & Jerry Thomas Gallery and Collection Fick Fossil & History Museum Fort Larned National Historic Site Johnson County Museum Kansas Museum of History Kiowa County Historical Museum & Soda Fountain Lindsborg Old Mill and Swedish Heritage Museum Lowell Milken Center for Unsung Heroes Mid-America All-Indian Museum Miners Hall Museum Nicodemus National Historic Site Old Cowtown Museum Pawnee Indian Museum State Historic Site Pony Express Barn & Museum Sternberg Museum of Natural History The Big Well Museum ART & THEATER Prairie Museum of Art & History Red Barn Studio Museum Theatre In The Park NATURE AREAS Botanica, The Wichita Gardens Cedar Bluff State Park Cheney State Park Clinton State Park - OK Kids Cowley Lake Waterfall Crawford State Park Cross Timbers State Park El Dorado State Park Ernie Miller Park & Nature Center Fall River State Park Flint Hills Discovery Center Flint Hills Trail State Park Hillsdale State Park Lehigh Portland Trails Little Jerusalem State Park Lovewell State Park Meade State Park Milford State Park Monument Rocks Natural Area Perry State Park Pomona State Park Santa Fe Trail Center Museum & Research Library Tallgrass Prairie National Preserve Tuttle Creek State Park Webster State Park Wyandotte County Lake Park LIBRARIES Clay Center Carnegie Library Hays Public Library Hoisington Public Library Lawrence Public Library Salina Public Library Topeka and Shawnee County Public Library ***requires reservation online through their website prior to entry with code SUMMERFUN This project is developed under a grant from the U.S. Department of Education, #S425U210002, as part of an award totaling $553,723,455, with 0% financed with non-governmental or non-federal sources. However, those contents do not necessarily represent the policy of the U.S. Department of Education, and you should not assume endorsement by the federal government.
Information for the Class of 2021 and former Jayhawk graduates -KANSAS PROMISE SCHOLARSHIP INFORMATION Fort Scott Community College is offering the Kansas Promise Scholarship (HB 2064), part of a $10 million program passed by the Kansas Legislature and signed by Governor Kelly in April 2021. The Kansas Promise Service Scholarship was created during the 2021 Kansas Legislative Session to assist students attending Kansas community colleges, technical colleges, Washburn Institute of Technology and certain private postsecondary educational institutions and enrolled in specified programs of study, generally in the fields of (1) information technology and security, (2) mental and physical health care, (3) advanced manufacturing and building trades, or (4) early childhood education and development. This scholarship may be used toward tuition, required fees, books and required program materials (KBOR, 2021). "The Kansas Promise Act is an incredible opportunity for students seeking certificates or degrees in technical training, nursing, allied health, and other fields. The scholarship will pay for the skilled training needed for Kansas jobs with good wages. We are excited to participate in the Kansas Promise Act program at FSCC and our admissions office can assist you with the application process," says Alysia Johnston, FSCC President. The Kansas Promise Scholarship is a last dollar scholarship and assists with costs that institutional or grant scholarships are unable to cover. Recipients must meet all qualifications listed below and complete the application process to be eligible for this opportunity. Be a Kansas resident, AND Have graduated from a Kansas high school within the preceding 12 months or have received a GED or other high school equivalency credential within the preceding 12 months, OR Be 21 years of age or older and a Kansas resident for the preceding three consecutive years, OR Be a dependent child of a military service member who is stationed in another state and who, within the preceding 12 months, graduated from an out-of-state high school or obtained a GED or other high school equivalency credential. FSCC programs that qualify for this opportunity are as follows: Associate in Arts or Science Computer Science Elementary Education Associate in Applied Science Nursing Construction Trades Emergency Medical Technician (EMT) Heating, Air Conditioning, & Refrigeration (HVAC) Home Health Aid Agriculture Technology John Deere Technician Masonry Medication Aid (CMA) Nursing Aid (CNA) Welding For more information, please visit the FSCC website at fortscott.edu/KansasPromise or contact the Admissions Office at 620.223.2700 ext. 3510 or
admissions@fortscott.edu
.

Busy week for JLHS girls volleyball! Monday-Vball skills from 6:30-8:00 am. Tuesday- Weights and conditioning 6:30-7:30am Wednesday- 9 team Volleyball tournament at JLHS, play begins at 9:00 am, be there at 8: 30 for warm-ups. Thursday- Weights and conditioning 6:30-7:30am, Volleyball skills 7:30-8:30am. Junior high girls are welcome to attend all of these events, and can help at the volleyball tournament. All high school girls interested in playing in the tournament, please let Coach Holt know ASAP. Spectators are welcome to attend the tournament. There will be a concession stand. GO Jayhawks!!!!

Great first full week of workouts this week with our high school and junior high athletes! Averaged 70 boys/girls working to make themselves better this week! Keep building that commitment!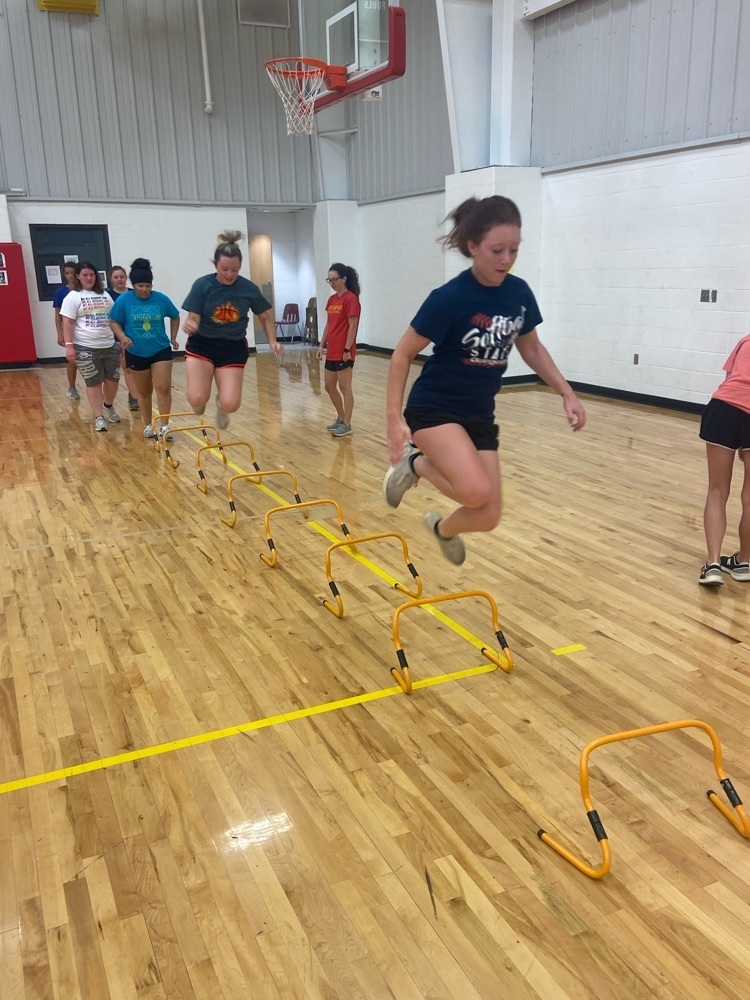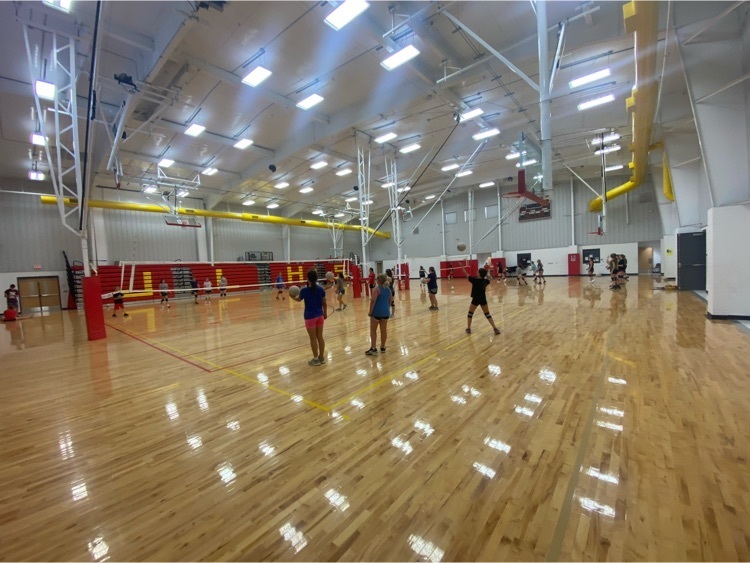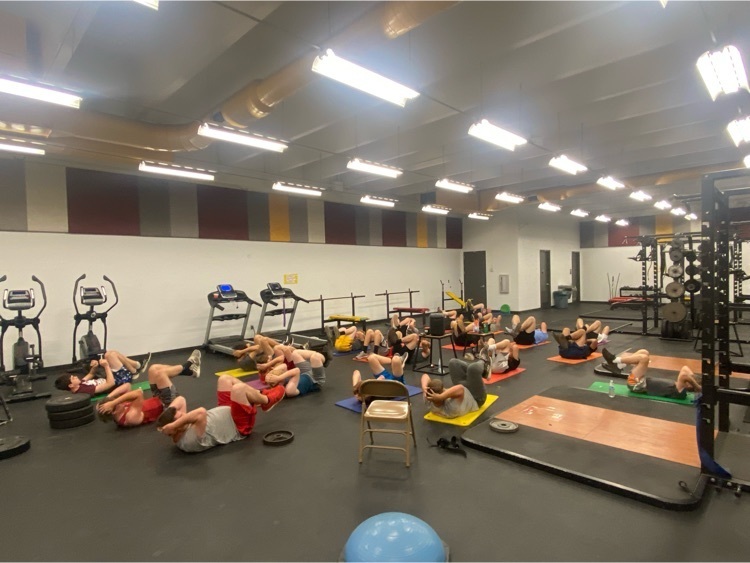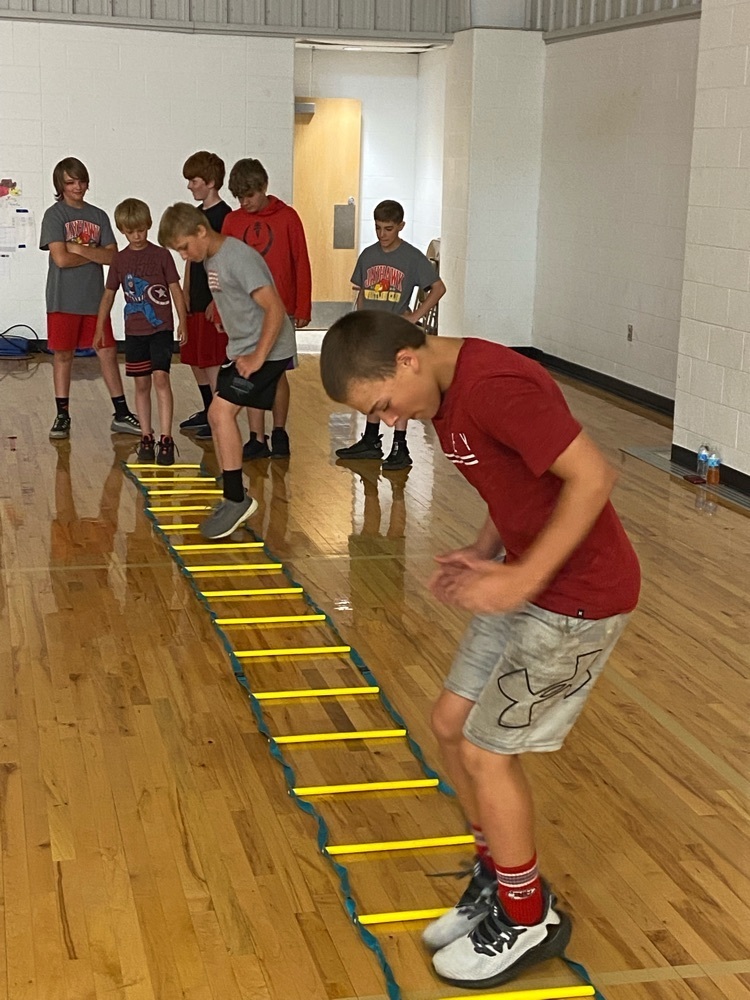 Saturday, June 12, 2021 ACT Test Administration Important Info- Any student who is registered to take the ACT at Jayhawk Linn Jr/Sr High School THIS Saturday needs to arrive by 7:45 a.m. for check in at the main entrance. ACT does require that each student wear a mask in order to enter the testing facility- this is an ACT requirement not a USD 346 policy. JLHS will have extra paper masks on-site. Remember to bring your ACT ticket, valid ID, #2 pencils, water, and a snack.

Junior High Boys Weights/conditioning Continues this week! Monday, Wednesday and Thursday from 8am-9:15am Coach Kirk Holt

Summer Volleyball Skills 7th-12th grade Starts tomorrow at 6:30-8am Come in the back door by the new gymnasium. See you in the morning! Coach Christa Holt

Congratulations to our 2021 Three Rivers League Jayhawk Softball All-League Selections! Jenna Holt-1st team Unanimous Emilie Nation-1st team Unanimous Jude Kerr- 1st Team Jayden Willard- 1st Team Jaimah Lohman- Honorable Mention Marissa Baldwin- Honorable Mention

Congratulations to our 2021 Three Rivers League Jayhawk Baseball All-League Selections! Blane Simons -1st Team Dylan Nickelson-1st Team Austin Nation-1st Team Kaden Nation-Honorable Mention
Jayhawk Elementary students- We hope you are having a great summer! Here are some more end of the school year fun pics to enjoy!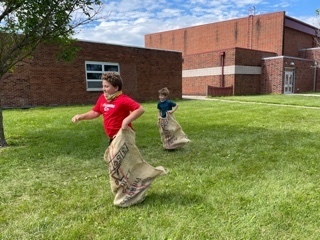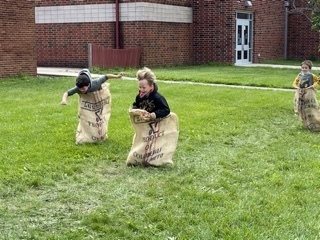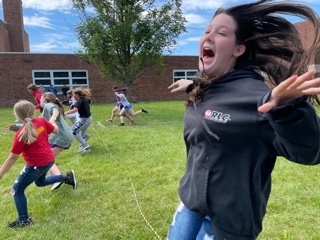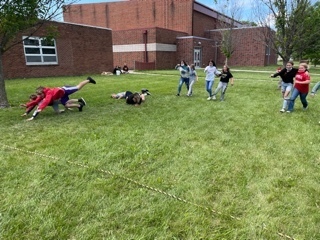 Still catching up on posting! Another end of the year activity for Jayhawk Elementary students as 5th graders listen to guest author Tod Mildfelt.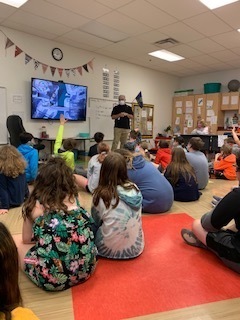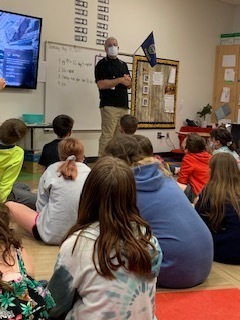 Summer Reading Program at Mound City Library for all ages!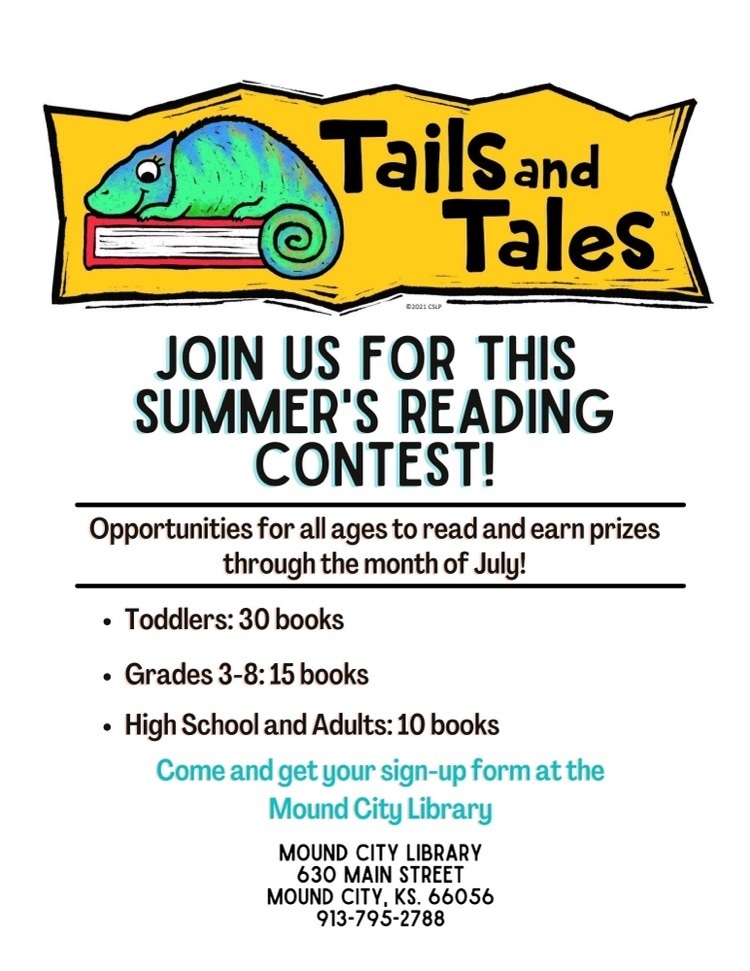 School is out but we still have some pics to post from the last few weeks! Jayhawk Elementary 6th graders enjoyed a day of activity on Wednesday, May 19, with a Farewell Celebration and Faculty-Student Wiffle Ball game. Enjoy your summer 6th graders and then on to junior high!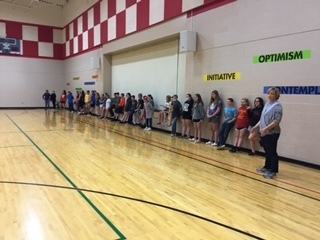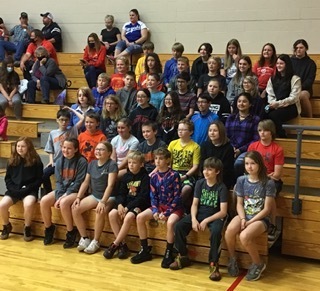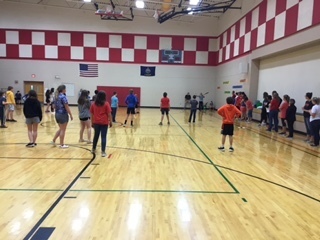 Due to adverse field conditions at Paola, the 2A Regional Softball tournament will be moved to Ottawa. The tournament will resume today at the Dick Peters Sports Complex located at 624 E. 11th Street in Ottawa. First semifinal game is scheduled for 12:00 NOON! Go Jayhawks!!!!!!!