SCHEDULE CHANGE- Please pass it on! Jayhawk JV Football Start time tonight has been moved back to 6pm at home.

Junior Class Meeting for Parents and Students this will be held in Mrs. Ware's room on Wednesday, Sept. 21st @ 6:30pm. Discussion over planning for After Prom and Arts and Crafts parking. If you can't attend, but want to be involved please contact Mrs. Ware or Dez Poole.

Tonight's Junior High Volleyball game schedule: "C", "B" then "A".

Jayhawk Linn High School Volleyball varsity and JV teams will begin play at 3:45pm today at the home Jayhawk Linn Quad, this is due to a lack of officials available for tonight's contests. We apologize for the inconvenience of the early start and appreciate your understanding.

Jayhawk Linn High School Activities Schedule 9/12-9/17 Monday 9/12 Girls Golf @ Caney Valley 10 am Tee Off 18 holes Freshman Volleyball @ NE Arma at 5pm 5pm JL vs Arma JL vs St Paul JL vs Chetopa JV Football @ Southeast Cherokee 6pm Tuesday 9/13 HS Volleyball Varsity/JV Quad @ Home Main Gym New Gym 4pm JL JV vs Arma 5pm JL V vs Arma JL JV vs Crest 6pm JL V vs Crest. Pleasanton JV vs Arma 7pm JL V vs Pleasanton 7: 30pm approx JL JV vs Pleasanton Thursday 9/15 1pm Girls Golf Home Tournament @ Deer Trace Golf Course Linn Valley 4pm HS Cross Country @ Wellsville Friday 9/16 HS Varsity Football @ Uniontown 7pm Saturday 9/17 HS Volleyball Varsity Tourney @ Erie 9am HS Volleyball JV Tourney @ Fort Scott 9am

Jayhawk Linn Junior High Schedule 9/12-9/17 Monday 9/12 Junior High Volleyball Home Triangular 5pm Vs Uniontown and Pleasanton A/B teams 9/15 Junior High Cross Country @ Wellsville 4pm 4pm 7th grade race 4:25pm approx. 8th grade race Junior High Volleyball Home vs Uniontown 5pm Junior High Football Home vs Uniontown 6pm

Congratulations to the Freshman Lady Jayhawks Volleyball team today at Prairie View Tournament! They win the tournament with an undefeated record on the day against Prairie View, Iola, Burlington, Wellsville, and Anderson County! Great Job ladies!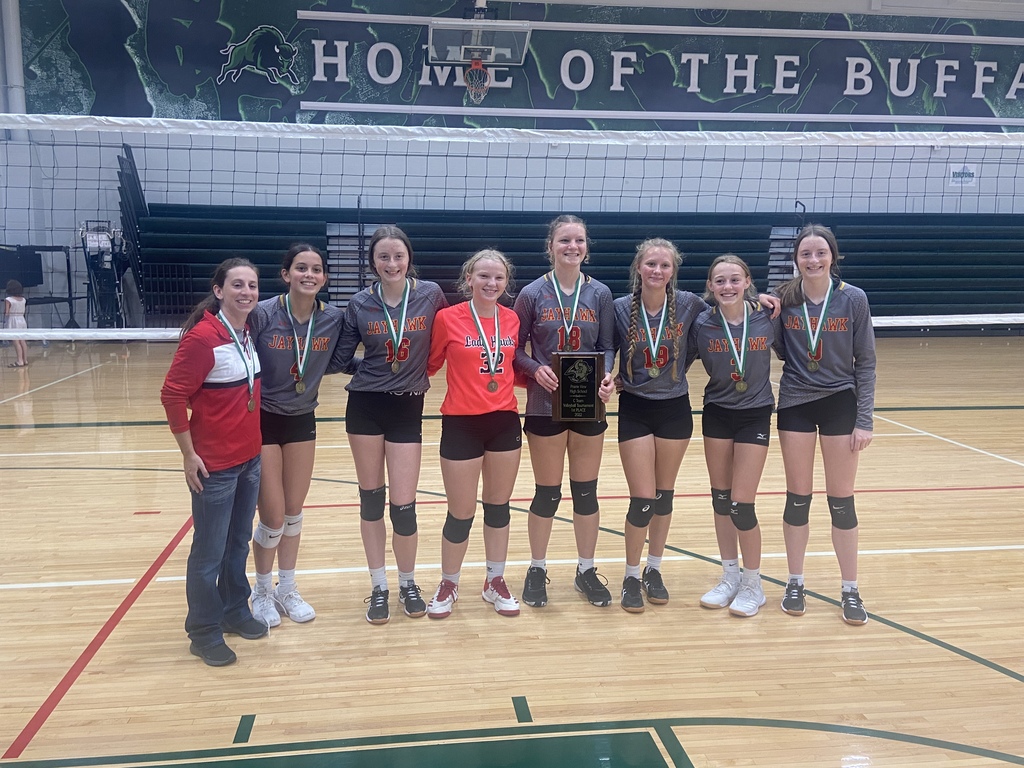 Jayhawk -Linn's Seventh grade class will be providing tailgate and concessions on Friday night. We will be serving barbecue beef sandwiches and chips for $5.00. Tailgate will start at 5:30 and wrap up around 7:30.

Jayhawk Linn is celebrating 50 years of being a district! We would like to invite you to celebrate with us at our Homecoming Football game, on Friday Sept. 23rd. We are inviting all 50 Homecoming King and Queen Candidates to the game to be recognized at Halftime. If you are, or know of, a Homecoming King or Queen from Jayhawk Linn's 50 Years, please let them know and have them contact JLHS so you can be recognized at Halftime. ALSO, our long time secretary and friend Shelley Cochran will be retiring from JLHS at the end of September. We are planning an Ice Cream Social for her BEFORE the homecoming football game, on September 23rd. We are SO thankful for Shelley and her years of service to our kids and our staff, we would love for you to come out and bring your best stories to share as well as wishing her luck on her new chapter. So, make plans to attend the Homecoming Festivities on Sept. 23rd and celebrate 50 years of being a Jayhawk!

Reminder: Lifetouch will be here to take school pictures tomorrow morning in both buildings.

Jayhawk Linn High School Activities Schedule 9/6-9/10 9/6 Girls Golf 1pm start at Fort Scott 18 holes 9/8 HS Cross Country at Fort Scott JV Girls Race begins at 4pm followed by JV Boys followed by Varsity Girls and Varsity boys 9/8 HS Volleyball at Erie 4pm start Erie vs Jayhawk Linn Freshman- South Court 5pm Erie vs Jayhawk JV - South Court. 5pm Erie vs Jayhawk Varsity North Court 6pm Jayhawk vs Parsons JV south court 6pm Jayhawk vs Parsons varsity north court 9/9 Fall Sports Senior Night 6:30pm 9/9 Varsity Football vs SE Cherokee 7pm start 9/10- 9am start Freshman Volleyball Tourney @ Prairie View 5 consecutive matches starting at 9am

Jayhawk Linn Junior High Activities for 9/6-9/10 Tuesday 9/6- 4pm start Junior High Volleyball @ Fort Scott Schedule: 4pm Jayhawk B vs Fort Scott followed by Jayhawk A vs Fort Scott on North Court, Jayhawk C vs Fort Scott on South court around 5pm Thursday 9/8- Junior High Cross Country @ Fort Scott Schedule: 3pm 7th grade race followed by 8th grade race at 3:30pm Thursday 9/8- Junior High Volleyball @ Pleasanton 5pm start Thursday 9/8- Junior High Football @ Pleasanton 6pm start Saturday 9/10- 9 am start Junior High Volleyball @ Osawatomie 7th and 8th grade Tourney

Reminder: Junior High and High School Fall Sports Pictures Tomorrow Team/Individual Sports Pictures - Tuesday, September 6th starting at 2pm Athletes- should bring their game uniforms and money with filled out picture packets, if students have not made it home with picture packets we have extras at school Girls Golf and Cheer will be taken on a different day

Lifetouch school pictures will take place in both buildings Wednesday, September 7.

Jayhawk Linn Girls Golf will unfortunately not start their season today as we were provided the wrong start time information. So they will not compete at Columbus today. We apologize for this inconvenience to our golfers, parents, and fans.

Reminder: No School Friday, September 2, and Monday, September 5, 2022. Enjoy your 4 day weekend.

Medications at school: Prescription and OTC meds should be hand delivered by an adult household member and given to our school nurse. Do not send medications with kids on the bus or in a child's backpack due to the inherent risk to other children. Prescription meds given at school require doctor's orders that give our nurse permission to administer the med. Thank you for your help with these important steps that will keep all kids safe.

Junior Activities Schedule for this week 8/29-9/2 9/1 Junior High Volleyball -at Northeast Arma 5pm start- Order of Play C team, B team, A team 9/1 Junior High Football- at Northeast Arma 6pm start 8 man format 9/1 Junior High Cross Country at Anderson County Approximate start times 7th grade 3:15 8th grade 3:45 Good Luck Jayhawks!

Jayhawk Linn Activities Schedule 8/29-9/2 8/30 - 6pm approximate start after Colgan/Humboldt -Varstiy/JV Volleyball at Pittsburg Colgan 6pm Humboldt 7pm Colgan 9/1 - Junior High and High School Cross Country at Anderson County Approximate Schedule 3:15 7th grade 3:45 8th grade 5pm JV Girls 5:30pm JV Boys 6pm Varsity Girls 6:30pm Varsity Boys 9/1 High School Girl's Golf 3pm start at Columbus 9/1 Freshman Volleyball 5pm start at Parsons High School with Fort Scott and Frontenac 9/2 Varsity Football Home opener vs Northeast Arma 7pm start Good Luck Jayhawks!

Reminder: Jamboree tonight at Erie for the High School Football Team starts at 7pm. Each team will run 18 offensive plays and 18 defensive plays against each other during the scrimmages. Schedule of play: Jayhawk Linn vs Erie Jayhawk Linn vs Northeast Arma Northeast Arma vs Erie Admission: $2 Students $4 adults Concessions will be available