Junior High League Track meet starts at 12:30 today at Uniontown. Due to the weather it looks like they will start all events at 12:30 running and field events. Hopefully weather will cooperate and allow our athletes to compete.

Junior High Golf at Iola is cancelled for today.
Nurse Lacey Earnest secured a donation for a free toothbrush and toothpaste for each student at Jayhawk Elementary. Thank you Nurse Lacey!!!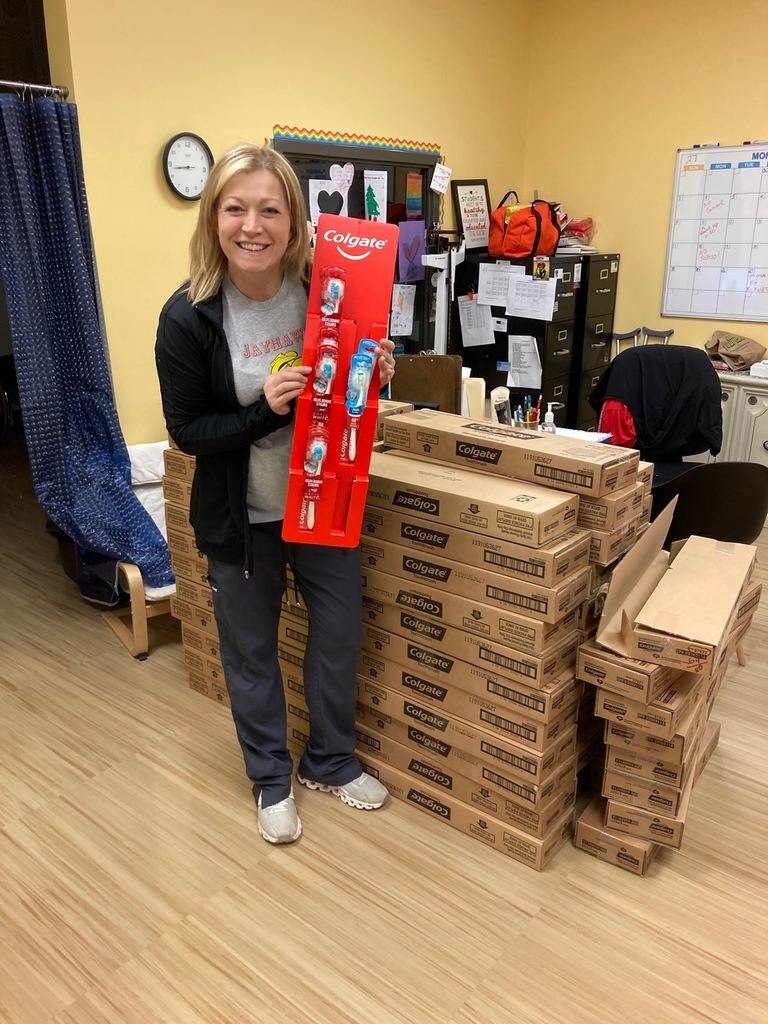 Class of 2022- Upcoming Scholarship Deadlines Mound City Christian Church- Due Thursday, April 28, 2022 Electrical Lineman Scholarship- Due Sunday, May 1, 2022 Trifecta Scholarship- Due Sunday, May 1, 2022 Gerald B. Hazelbaker Memorial Scholarship- Sunday, May 1, 2022 Also be sure to check out the following Kansas Regents Scholarships. They are all due Sunday, May 1, 2022, and can be completed online by clicking-
https://www.kansasregents.org/scholarships_and_grants
Kansas Regents Scholarships: Kansas Ethnic Minority Scholarship Kansas Nursing Service Scholarship Kansas Career Technical Workforce Grant Kansas National Guard Educational Assistance Program Kansas State Scholarship Kansas Teacher Service Scholarship ** Be sure to use your personal e-mail as a contact for these scholarships. Click here for complete list of all local/state/ national scholarships-
https://docs.google.com/spreadsheets/d/1SCuLMVecwN20-jRfChhlUUgXKLTDMFQbLOxpqC8j2-A/pubhtml?gid=0&single=true

Jayhawk Linn High School Baseball and Softball Schedule Change We have moved the home baseball and softball games against Uniontown this week to Wednesday, April 27 at 4:30pm.

Junior High Golf Schedule Change The Junior High Golf Tourney at Parsons scheduled for this week has been moved to tomorrow, Tuesday, April 26th at 1pm.
Important Upcoming Class of 2022 Events-

Baseball and Softball games at Marmaton Valley for tonight have been postponed due to field conditions. We will post makeup date as soon as possible.

Jayhawk Junior High Golf Junior High Golf Team hosts their home tournament tomorrow(4-19) at Sugar Valley with a start time of 3pm Junior High Golf team travels to Anderson County on Wednesday (4-20) for the Anderson County Junior High Tournament Good Luck Jayhawks!

Jayhawk Linn Junior High Track Congrats to the 8th grade Girls Track Team on their 1st place finish at the Jayhawk Linn Junior High Invitational last Thursday!! All 4 Junior High Teams competed well and had several outstanding performances! Tuesday 4-19 at Pleasanton track meet start time is 3:45pm Thursday 4-21 at Northeast Arma track meet start time is 2pm Good Luck Jayhawks

Jayhawk Linn JV Golf Travels to West Franklin (Lamont Hills) for JV Golf at 1pm tomorrow Good Luck Jayhawks!

Jayhawk Linn Track Travel to the Gene Farrow Track meet at Burlington High School tomorrow (4-19) start time is 10:30am field event except girls shotput will begin at 12:30 followed by boys shotput. Prelim races begin at 11:45am and finals will follow. Good Luck Jayhawks!

Jayhawk Linn Softball Doubleheader at Altoona Midway today(4-18) at 4:30pm Doubleheader at Prairie View tomorrow (4-19) at 4:30pm Admission at Prairiev View: $5 adults/$3 students Doubleheader at Marmaton Valley on Thursday (4-21) at 4:30pm Good Luck Lady Jayhawks!

Jayhawk Linn Baseball Doubleheader at Home today at 2pm vs Heritage Christian Academy Doubleheader at Marmaton Valley on Thursday at 4:30pm Good Luck Jayhawks!

Baseball Fans and Parents Traveling to Chetopa today, we have been notified that it would be faster to travel to Columbus and through Oswego to Chetopa from the North. Construction in between Baxter Springs and Chetopa makes for a longer trip.

Jayhawk Linn Baseball Schedule Time Change Monday April 18th home double header with Heritage Christian Start time changed to 2pm

Jayhawk Softball Team split with Yates Center last night losing game 1 (16-11), but bounced back got the win in game 2 (9-6). Both games were tough hard fought games!

Jayhawk Linn High School Track teams competed well in the Pleasanton Track Meet last night. Our high school girls team came away with a 1st place team finish! Boys track team finished 5th overall. Several solid individual performances by both teams! Great work Jayhawks!

Jayhawk Linn High School Track team competes tonight at the Pleasanton Invitational Track Meet starting at 3:30pm. Good Luck Jayhawks!

Both Jayhawk Linn Baseball and Softball teams continued their winning ways last night against Saint Paul. Jayhawk Baseball swept the doubleheader bringing their season record to 8-0 Game 1 : 18-6 Game 2: 16-9 Jayhawk Softball swept the doubleheader as well bringing their season record to 4-0, by winning both games by run rule in the 3rd inning. Softball plays again tonight at home against Yates Center in a makeup doubleheader starting at 4:30pm. Baseball plays again Thursday in a makeup game at Chetopa. Great Work Jayhawks!