Summer Baseball Signups: Details for Blue Mound and Mound City Below Blue Mound Girls and Boys T-Ball ages 5-7, Coach Pitch 8-11, Pigtail and Little League 12-15, as of June 1. Email Max Krull at
mdsat@msn.com
to sign up. Email is preferred, but if you can not please text 785 229 2245. Mound City Boys and Girls sign-up in person Wednesday, March 31, from 6:00 p.m. to 8:00 p.m. at Jayhawk-Linn High School, 14675 KS Hwy 52, Mound City, KS 66056.
Congratulations to Jayhawk wrestlers Corbin White and Hunter Holt who were recently named KWCA First Team Wrestling All-State Academic! To qualify for this award these two juniors had to have a varsity winning record and at least a 3.5 GPA.

JES students are encouraged to bring a water bottle with a lid to school each day. We want to make sure they stay hydrated as our spring temperatures warm up.
Seniors- March and April are major scholarship application months-especially for local and state ones. Don't forget to turn in the following to Mr. Kramer by Friday morning, March 12, as they are due while you are on Spring Break- Kansas Masonic scholarships, KACRAO Scholarship, Gregg Worland Cox Scholarship, and the Sugar Mound Arts and Crafts Scholarship. ALL scholarships available to the Class of 2021 can be found at
www.usd346.org-
Click on JLHS and then Click on Scholarships. See or e-mail Brett Kramer at
bkramer@usd346.org
for assistance. Scholarship money awarded to you and your parents is money you do not have to repay.

Junior High Scholars Bowl finished the season Thursday night by competing in the League Scholars Bowl competition. Jayhawk A team placed 3rd and the Jayhawk B team placed 2nd. According to sponsor Jennifer Hughes, "The A team consistently performed well and the B team improved with every meet." Congrats to the junior high Jayhawks who competed on the Scholars Bowl Team this season!

Twin, Multiple, or Group Day is Friday, March 5, at JES. Dress like someone else, or dress alike as a group. Many students will be wearing red, our school colors. Feel free to join us by wearing red.

Attention attached is information about tonight's high school girls basketball game at Colgan: 1. Require masks upon entry and at all times in the facility 2. Temperature checks at the front gate, 100.4 and over will not be admitted into the game 3. No concession stands 4. $7 admission for everyone 5. Visitors sit on east side 6. Visitors will not be granted admission until 30 minutes before game time (6:30pm) Live Stream Link
https://espn1007.com/broadcast/st-marys-
Congratulations to junior Corbin White who made Jayhawk Wrestling history Saturday evening when he earned the 1-2-3A State Champion title in the 106 lb. weight class. Corbin is only the second Jayhawk wrestler to make the State Finals.


Substate Basketball BOYS JHL 3/1/21 @ UHS 7:00 Tournament Roster Allowed 4 Fans per participant Girls Tournament roster Can Attend but Must Pay and will not be allowed Fans Admission $7 / No Passes Except KSHSAA issued No entry Before 6:30 Mask-Social Distancing-temp Check Required by the KSHSAA

Reminder: No School Friday, February 26, 2021.
Jayhawk Elementary is in its last week of the Kids Heart challenge where the kids have completed both a Jump for Heart and Hoops for Heart unit at school. Under the instruction of PE teacher Ryan Metcalf, students have been raising money for the American Heart Association and for the second year in a row they have raised over $5,000! JES will continue to raise money for this cause until Monday, March 1.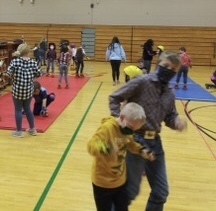 Reminder: USD 346 Parent Teacher Conferences will be held Tuesday, February 23, and Thursday, February 25. No School Friday, February 26.
"Sharing the love"- Jayhawk Elementary 5th graders in Tracy Schneider's classroom combined their math and science learning with a belated Valentine's Day celebration on Friday, February 19.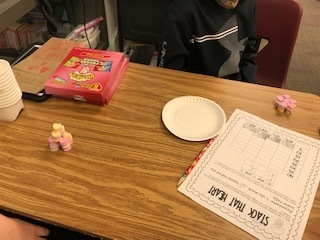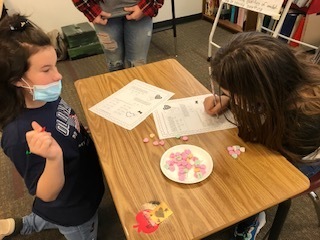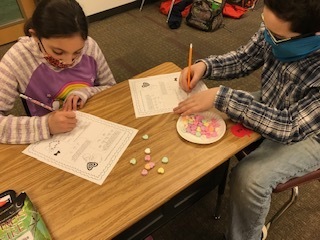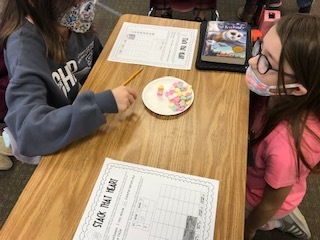 For those planning on traveling to tonight's basketball games at Altoona-Midway, K-39 is closed from Chanute to US-75. The quickest route for tonight's game from here is to go to Iola, west out of Iola on US-54 to Yates Center. From there, go south on US-75 to Altoona-Midway HS.

Tonight's High School basketball games at Altoona will be available on a live stream. Go to
www.usd387.org
and click on Youtube Channel

Attention Parents: Tonight's high school varsity games at Altoona will start at 6:00. You will have to have a ticket to enter the building, each participant will be allowed 4 tickets. Mr. Kirk Holt will be at Altoona at the gate distributing the tickets. In addition to tonight's contest we have added a Varisty Girls home game next Tuesday night against Mission Valley start time TBD.

Reminders for JES: We will have Western Day and our Valentine's parties Friday, February 19.

Due to poor travel conditions on our gravel roads there will be "No School" tomorrow February 18th.